Swarovski Crystal Spirit Animal Elephant Necklace Gift Set
Summer Blowout Sale! Get An Extra 25% Off w/ Code SUMMER25. Shipping Is On Us!
FREE SHIPPING DEAL ENDS IN:
Introducing The "Swarovski Crystal Spirit Animal Elephant Necklace" Gift Set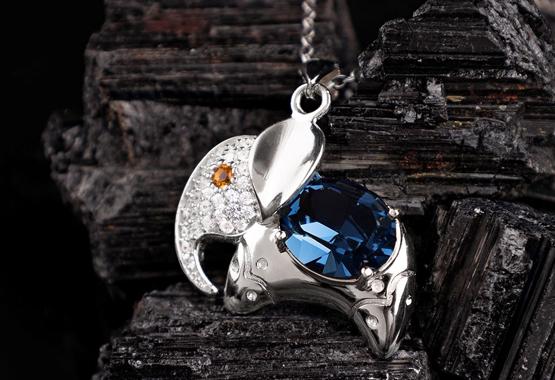 Do You Feel Close To Those Strong Big Elephants?

Maybe elephants are your spirit animal - a spiritual guide in an embodied form. So how can this elephant crystal necklace help your spirit?
You can stay connected to your spiritual guide whenever you touch or interact with your spirit animal form. It's not that easy to have a giant elephant by your side at all times ( I know they are cute and you want to cuddle them, but not always practical!), so this necklace is a much easier way to stay connected.
A present = A smiling face!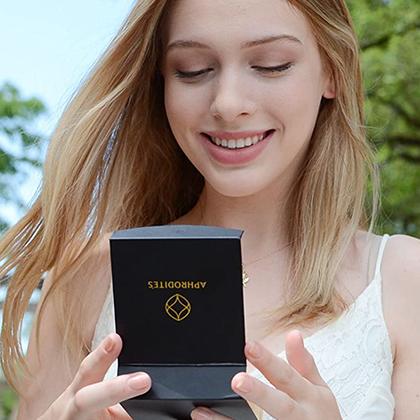 Trust me, those who love and cherish their spirit guide elephant will love this gift set. You can present this beautiful necklace to your sister, mother, girlfriend, or anyone close to your heart.

This necklace will arrive in a gift-ready eye-catching box. A matte black box with golden foil details will definitely create an elegant appearance.

Celebrate your bonds with a dazzling piece of jewelry. Shop now & get 50% off!

Yes, you can grab this iconic necklace for yourself. Every time you wear it, this will boast about your unique personality.

Like an elephant maybe you're filled with qualities like sheer will and determination—someone who has the guts to achieve their goals.

This iconic neck piece will stay close to your skin, and you'll feel connected to your most cherished spirit animal. Let this crystal elephant figure help you through tricky times and show you a different perspective on life.

Don't miss this chance to get 50% off. Offer ends soon! Add to your cart now.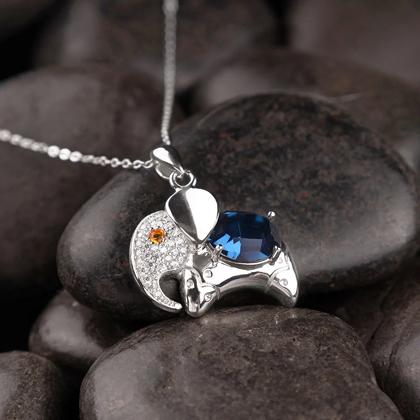 Unmatched Quality and Style
Are you looking for a fantastic present? Want to get yourself a genuine Swarovski crystal   jewelry piece? Why not grab this pendant right now before it runs out of stock.

It's made out of 925 sterling silver and contains genuine Swarovski crystal. Swarovski glass crystal is known for its superior quality and luxurious look. Top-notch silver finish and crystals make this jewelry captivating 100 times more.
Get this epic elephant jewelry now. Enjoy 50% off with code SUMMER50.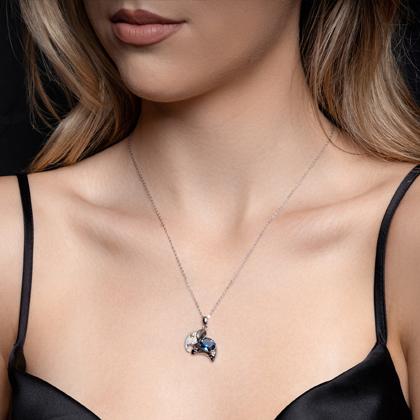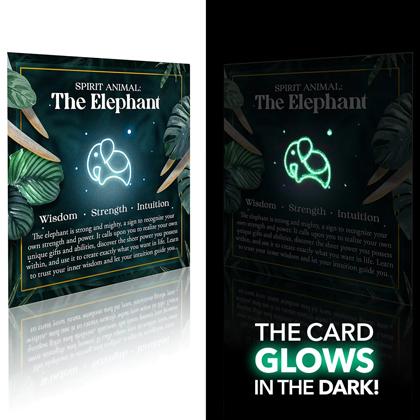 What is in your spirit can be on your table.

This incredible necklace comes with a bonus! A message card that contains a special meaning - it tells you all about the incredible qualities of elephants and how they appear in your life.

I know how happy you'll be to keep such a thing in your room. You can turn this card into a table showpiece because it comes with a stand. Awesome right?

There's more. Turn off your lights to see the magic. The message card glows in the dark, just like your spirit guide being the guiding light in dark and uncertain times.
Add to your cart now to get this enchanting necklace with a glowy message card.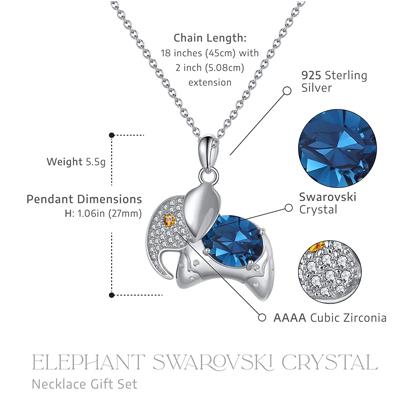 Necklace Specifications:

- Chain Type: Cable Chain
- Chain Length: 18 inches (45.72cm) with 2 inch (5.08cm) extension
- Pendant Dimensions: 1.06in (27mm)
- Metal Type: 925 Sterling Silver with Rhodium Plating
- Main Crystal Type: Swarovski Crystal
- Accent Crystal Type: AAAA Cubic Zirconia
- Design: Elephant pendant
- Weight: 5.5g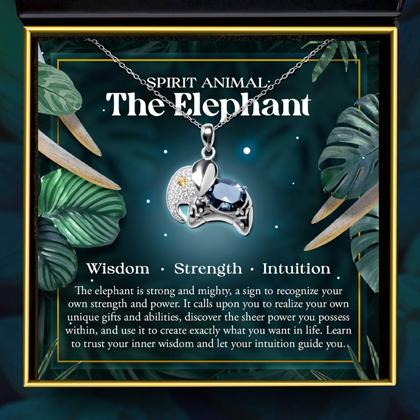 Included with Each Order:
- Exclusive Gift Box
- Matte black with gold foil details
- Deluxe Glow-in-the-Dark Message Card
- Card reads "SPIRIT ANIMAL: THE ELEPHANT
  WISDOM - STRENGTH - INTUITION
  The elephant is strong and mighty, a sign to recognize your own strength and power. It calls upon you to realize your own unique gifts and abilities, discover the sheer power you possess within, and use it to create exactly what you want in life. Learn to trust your inner wisdom and let your intuition guide you."

1003
people have bought this necklace.
Stock is running low. Get yours now!
Don't rely on our words. See what others are saying about this necklace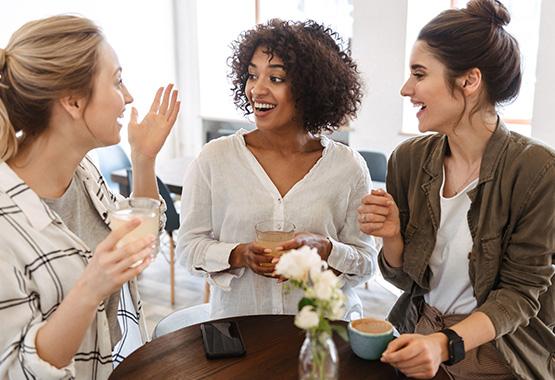 Are You A Loyal And Caring Friend?
Do you know elephants are loyal and reliable friends? You can always learn a way of true friendship from them. They are also compassionate and caring and ready to jump anytime to defend weaker species.

It's time we show our compassionate and loyal nature to this earth and all life. Do you know how much nature and wildlife are suffering because of us?

Unless we take serious action to save nature and wildlife, millions of animals will face extinction within the next decade.

But we can prevent extinction, save wildlife habitats, and protect nature.

How? We're going to donate 10% of the total revenue to the wildlife foundation.

Be a part of this campaign by owning this fantastic piece. Join our mission to be a part of the solution and save endangered species.

Time to support our effort to protect the wildlife.

My discount code is not working. What should I do?

Please don't get worried, we'll help you out. Email us at info@aphrodites.com and provide your discount code. We'll verify eligibility and adjust your order as fast as humanly possible.


Can you ship to other countries other than the USA?

We currently ship to all countries except Saudi Arabia, United Arab Emirates, South Africa, Mexico, Venezuela, and Guatemala.


What is the shipping and customs fee?

Good news! The shipping is free worldwide, but customs taxes on international shipments are the customer's responsibility and vary depending on the country.


Do you offer any guarantees?

Yes, we have a 100% satisfaction guarantee (read our policy for more info)


Can I shower with the necklace?

It's generally advised to take off your necklace before taking a shower.
The chemicals in detergents and soap can damage the silver and rose gold plating..

A little about Aphrodite's
We're a leading online venture specializing in statement jewelry and must-have accessories. We love to share our love and passion for unique cultures and beliefs with the world. We're offering beautiful jewelry and accessories that boost self-confidence and have a profound meaning.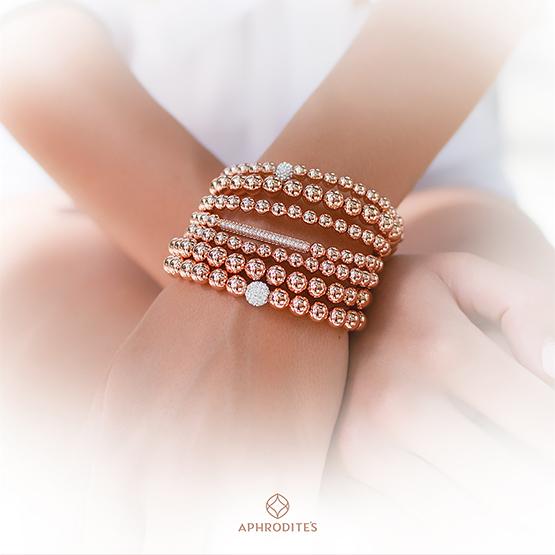 Get Instant 50% off. Free Shipping

txtcont:--:

1 Necklace Set


:|~|:txtblclass:--:ba-58119201:|~|:ttl5cont:--:

50% OFF


:|~|:ttl5blclass:--:ba-58119183:|~|:ttl4cont:--:

$69.99


:|~|:ttl4blclass:--:ba-58119188:|~|:ttl3cont:--:

$139.99


:|~|:ttl3blclass:--:ba-58119189:|~|:ttl2cont:--:

SPECIAL OFFER 1


:|~|:ttl2blclass:--:ba-58119193:|~|:slctvrnt:--::|~|:shwqty:--:false:|~|:selclass:--:js-best-value-not-select:|~|:qty:--:1:|~|:prdurl:--:/cart:|~|:prdimgtp:--:product:|~|:prdbtnltp:--:checkout:|~|:prdbtnelt:--:_self:|~|:prdbtncpt:--:BUY NOW:|~|:prdbtnclass:--:zpa-button-padding-medium bcss-58119181:|~|:prdbtnalign:--:zpa-button-alignment-center:|~|:prdblclass:--:ba-58119181:|~|:lblvisattr:--:data-hidden-label:|~|:lbluptxt:--::|~|:lbltxtcont:--:Free + Shipping:|~|:lblmdltxt:--::|~|:lblblclass:--:ba-58119207:|~|:imgimgattr:--:alt="TOL Heart Bracelet" sizes="100vw,960px,830px,720px,590px,450px,220px" data-width="420" data-height="420" data-lowsrc="https://cdn05.zipify.com/kvWQ7T9KMZJAp1dZt3q2xmX1tyI=/fit-in/540x0/filters:quality(4):blur(9)/3ffa7730f4c84d7c8c5b01ab980de517/1-necklace-set.jpeg" data-parent-fit="contain" data-srcset="https://cdn05.zipify.com/8PGpYswXEkjJMymTS9GPa4rvsqg=/fit-in/220x0/3ffa7730f4c84d7c8c5b01ab980de517/1-necklace-set.jpeg 220w, https://cdn05.zipify.com/Ags9eXZMEaUJBeeroRx74k930R4=/fit-in/450x0/3ffa7730f4c84d7c8c5b01ab980de517/1-necklace-set.jpeg 450w, https://cdn05.zipify.com/HN4eq52BEICHiRiK4f_OO3zgFFY=/fit-in/590x0/3ffa7730f4c84d7c8c5b01ab980de517/1-necklace-set.jpeg 590w, https://cdn05.zipify.com/_6u_QUj5w-Z71Iy7q2dsyyR0iv0=/fit-in/720x0/3ffa7730f4c84d7c8c5b01ab980de517/1-necklace-set.jpeg 720w, https://cdn05.zipify.com/9nMGxjI_AiLDJDgu3F7yH4UCwo4=/fit-in/830x0/3ffa7730f4c84d7c8c5b01ab980de517/1-necklace-set.jpeg 830w, https://cdn05.zipify.com/lTgdbVeJmLoetlZaVy9WarHgNJ4=/fit-in/960x0/3ffa7730f4c84d7c8c5b01ab980de517/1-necklace-set.jpeg 960w" data-src="https://cdn05.zipify.com/lTgdbVeJmLoetlZaVy9WarHgNJ4=/fit-in/960x0/3ffa7730f4c84d7c8c5b01ab980de517/1-necklace-set.jpeg":|~|:imgblclass:--:zpa-mobile-align--center zpa-image-container zpa-align--center ba-58119190:|~|:img2blclass:--:zpa-mobile-align--center zpa-align--center ba-58119205:|~|:img2attr:--:alt="Trust Badges" src="https://cdn05.zipify.com/m3mbxd-AkGczMsuI3G0aCrAyrng=/fit-in/960x0/c71cb4c8eabf46ae888644b2a03fdb8a/627207_20170417t161416-1.png" sizes="960px,830px,720px,590px,450px,220px" srcset="https://cdn05.zipify.com/lCs0wghatR1X4QfOJ0kBusBm2Ds=/fit-in/220x0/c71cb4c8eabf46ae888644b2a03fdb8a/627207_20170417t161416-1.png 220w, https://cdn05.zipify.com/-gEaVkgQemWvsPIrSb8JKTYIe38=/fit-in/450x0/c71cb4c8eabf46ae888644b2a03fdb8a/627207_20170417t161416-1.png 450w, https://cdn05.zipify.com/kti7XcWaHd3Tee5c22RIlBPAk_s=/fit-in/590x0/c71cb4c8eabf46ae888644b2a03fdb8a/627207_20170417t161416-1.png 590w, https://cdn05.zipify.com/2-wnJpXBhUBspK1ztHa_tQCtwgA=/fit-in/720x0/c71cb4c8eabf46ae888644b2a03fdb8a/627207_20170417t161416-1.png 720w, https://cdn05.zipify.com/TYswXF2d90bQCQvkkKtJXuUqM5k=/fit-in/830x0/c71cb4c8eabf46ae888644b2a03fdb8a/627207_20170417t161416-1.png 830w, https://cdn05.zipify.com/m3mbxd-AkGczMsuI3G0aCrAyrng=/fit-in/960x0/c71cb4c8eabf46ae888644b2a03fdb8a/627207_20170417t161416-1.png 960w":|~|:handle:--:swarovski-crystal-spirit-animal-elephant-necklace-gift-set:|~|:eid:--:58119181:|~|:bvuppclass:--:uca-58119207:|~|:bvprcsvclass:--:hidden mat-58119207:|~|:bvcrnrclass:--:hidden lat-58119207:|~|:brd1blclass:--:zpa-lazyload:|~|:bprcttlclass:--:hidden uat-58119207:|~|:addcrtmsg:--:Product has been added to cart
txtcont:--:

2 Necklace Sets


:|~|:txtblclass:--:ba-58119198:|~|:ttl5cont:--:

50% OF


:|~|:ttl5blclass:--:ba-58119182:|~|:ttl4cont:--:

$89.99


:|~|:ttl4blclass:--:ba-58119187:|~|:ttl3cont:--:

$179.99


:|~|:ttl3blclass:--:ba-58119200:|~|:ttl2cont:--:

SPECIAL OFFER 2


:|~|:ttl2blclass:--:ba-58119185:|~|:slctvrnt:--::|~|:shwqty:--:false:|~|:selclass:--:js-best-value-not-select:|~|:qty:--:2:|~|:prdurl:--:/cart:|~|:prdimgtp:--:product:|~|:prdbtnltp:--:checkout:|~|:prdbtnelt:--:_self:|~|:prdbtncpt:--:BUY NOW:|~|:prdbtnclass:--:zpa-button-padding-medium bcss-58119180:|~|:prdbtnalign:--:zpa-button-alignment-center:|~|:prdblclass:--:ba-58119180:|~|:lblvisattr:--:data-hidden-label:|~|:lbluptxt:--::|~|:lbltxtcont:--:Free + Shipping:|~|:lblmdltxt:--::|~|:lblblclass:--:ba-58119194:|~|:imgimgattr:--:alt="TOL Heart Bracelet" sizes="100vw,960px,830px,720px,590px,450px,220px" data-width="420" data-height="420" data-lowsrc="https://cdn05.zipify.com/XAqJIH1pJcxUPSUu27Jkv-vbN34=/fit-in/540x0/filters:quality(4):blur(9)/e7ef38a02253408f99d49abf8bb47cae/2-necklace-set.jpeg" data-parent-fit="contain" data-srcset="https://cdn05.zipify.com/KNDatVTZOHxcAwo18PoCv-RGx8U=/fit-in/220x0/e7ef38a02253408f99d49abf8bb47cae/2-necklace-set.jpeg 220w, https://cdn05.zipify.com/ffP8Xv9sXuH_av7W2p-HaPpzwL0=/fit-in/450x0/e7ef38a02253408f99d49abf8bb47cae/2-necklace-set.jpeg 450w, https://cdn05.zipify.com/7yNaoyQbHJuE4i2DSeCd9awEa0w=/fit-in/590x0/e7ef38a02253408f99d49abf8bb47cae/2-necklace-set.jpeg 590w, https://cdn05.zipify.com/2qDQmVXVl5tF0LLZqgpx9InPkDU=/fit-in/720x0/e7ef38a02253408f99d49abf8bb47cae/2-necklace-set.jpeg 720w, https://cdn05.zipify.com/03q077d2MuuCn0t5cX352mFYYRY=/fit-in/830x0/e7ef38a02253408f99d49abf8bb47cae/2-necklace-set.jpeg 830w, https://cdn05.zipify.com/dSy_dcicen3DjBJmuU3izUmyTjA=/fit-in/960x0/e7ef38a02253408f99d49abf8bb47cae/2-necklace-set.jpeg 960w" data-src="https://cdn05.zipify.com/dSy_dcicen3DjBJmuU3izUmyTjA=/fit-in/960x0/e7ef38a02253408f99d49abf8bb47cae/2-necklace-set.jpeg":|~|:imgblclass:--:zpa-mobile-align--center zpa-image-container zpa-align--center ba-58119197:|~|:img2blclass:--:zpa-mobile-align--center zpa-align--center ba-58119195:|~|:img2attr:--:alt="Trust Badges" src="https://cdn05.zipify.com/5AQFY40QDGDJFVKPK5dz-XfxMW8=/fit-in/960x0/9c463b80c3104007a390029d9163501a/627207_20170417t161416-1.png" sizes="960px,830px,720px,590px,450px,220px" srcset="https://cdn05.zipify.com/7Xcio7P5WqJ0ne3dnbBCsuVhfUw=/fit-in/220x0/9c463b80c3104007a390029d9163501a/627207_20170417t161416-1.png 220w, https://cdn05.zipify.com/OqaVXcEd7Y7RtL3ctdfbJQUuxkA=/fit-in/450x0/9c463b80c3104007a390029d9163501a/627207_20170417t161416-1.png 450w, https://cdn05.zipify.com/fPabWk7dIxCpD1ElYjxRXVqHzxc=/fit-in/590x0/9c463b80c3104007a390029d9163501a/627207_20170417t161416-1.png 590w, https://cdn05.zipify.com/H-zhLbckmCpLguZJewhqdjvnN9s=/fit-in/720x0/9c463b80c3104007a390029d9163501a/627207_20170417t161416-1.png 720w, https://cdn05.zipify.com/F5LRt-n1LzY1Nsq1flONUfoRGzA=/fit-in/830x0/9c463b80c3104007a390029d9163501a/627207_20170417t161416-1.png 830w, https://cdn05.zipify.com/5AQFY40QDGDJFVKPK5dz-XfxMW8=/fit-in/960x0/9c463b80c3104007a390029d9163501a/627207_20170417t161416-1.png 960w":|~|:handle:--:2-sets-of-swarovski-crystal-spirit-animal-elephant-necklace-gift-set:|~|:eid:--:58119180:|~|:bvuppclass:--:uca-58119194:|~|:bvprcsvclass:--:hidden mat-58119194:|~|:bvcrnrclass:--:hidden lat-58119194:|~|:brd1blclass:--:zpa-lazyload:|~|:bprcttlclass:--:hidden uat-58119194:|~|:addcrtmsg:--:Product has been added to cart
txtcont:--:

3 Necklace Sets


:|~|:txtblclass:--:ba-58119186:|~|:ttl5cont:--:

50% OFF


:|~|:ttl5blclass:--:ba-58119191:|~|:ttl4cont:--:

$89.99


:|~|:ttl4blclass:--:ba-58119184:|~|:ttl3cont:--:

$179.99


:|~|:ttl3blclass:--:ba-58119196:|~|:ttl2cont:--:

SPECIAL OFFER 3


:|~|:ttl2blclass:--:ba-58119202:|~|:slctvrnt:--::|~|:shwqty:--:false:|~|:selclass:--::|~|:qty:--:3:|~|:prdurl:--:/cart:|~|:prdimgtp:--:product:|~|:prdbtnltp:--:checkout:|~|:prdbtnelt:--:_self:|~|:prdbtncpt:--:BUY NOW:|~|:prdbtnclass:--:zpa-button-padding-medium bcss-58119179:|~|:prdbtnalign:--:zpa-button-alignment-center:|~|:prdblclass:--:ba-58119179:|~|:lblvisattr:--::|~|:lbluptxt:--::|~|:lbltxtcont:--:BEST VALUE:|~|:lblmdltxt:--::|~|:lblblclass:--:ba-58119199:|~|:imgimgattr:--:alt="TOL Heart Bracelet" sizes="100vw,960px,830px,720px,590px,450px,220px" data-width="420" data-height="420" data-lowsrc="https://cdn05.zipify.com/slJKoFjk2VE7wGr7n3lek0_tLsM=/fit-in/540x0/filters:quality(4):blur(9)/27fabd3d07be4c45a471b5e7af23e1cd/3-necklace-set.jpeg" data-parent-fit="contain" data-srcset="https://cdn05.zipify.com/C8O7qkQfStch55hmFoODCjJWCI4=/fit-in/220x0/27fabd3d07be4c45a471b5e7af23e1cd/3-necklace-set.jpeg 220w, https://cdn05.zipify.com/l6D4VHlqZF8oePgQzw1KF1q685Y=/fit-in/450x0/27fabd3d07be4c45a471b5e7af23e1cd/3-necklace-set.jpeg 450w, https://cdn05.zipify.com/LCWn27HwNtdl_7n0agy9rsFG_Wo=/fit-in/590x0/27fabd3d07be4c45a471b5e7af23e1cd/3-necklace-set.jpeg 590w, https://cdn05.zipify.com/AfuafQHG4kYDZvXq6_0MPPp1DBU=/fit-in/720x0/27fabd3d07be4c45a471b5e7af23e1cd/3-necklace-set.jpeg 720w, https://cdn05.zipify.com/5MA8zi06LIuCEAEsvgkg0jolY4c=/fit-in/830x0/27fabd3d07be4c45a471b5e7af23e1cd/3-necklace-set.jpeg 830w, https://cdn05.zipify.com/r5U8qa3x8vOqFyRfbgYT3F1iHvk=/fit-in/960x0/27fabd3d07be4c45a471b5e7af23e1cd/3-necklace-set.jpeg 960w" data-src="https://cdn05.zipify.com/r5U8qa3x8vOqFyRfbgYT3F1iHvk=/fit-in/960x0/27fabd3d07be4c45a471b5e7af23e1cd/3-necklace-set.jpeg":|~|:imgblclass:--:zpa-mobile-align--center zpa-image-container zpa-align--center ba-58119204:|~|:img2blclass:--:zpa-mobile-align--center zpa-align--center ba-58119192:|~|:img2attr:--:alt="Trust Badges" src="https://cdn05.zipify.com/m3mbxd-AkGczMsuI3G0aCrAyrng=/fit-in/960x0/c71cb4c8eabf46ae888644b2a03fdb8a/627207_20170417t161416-1.png" sizes="960px,830px,720px,590px,450px,220px" srcset="https://cdn05.zipify.com/lCs0wghatR1X4QfOJ0kBusBm2Ds=/fit-in/220x0/c71cb4c8eabf46ae888644b2a03fdb8a/627207_20170417t161416-1.png 220w, https://cdn05.zipify.com/-gEaVkgQemWvsPIrSb8JKTYIe38=/fit-in/450x0/c71cb4c8eabf46ae888644b2a03fdb8a/627207_20170417t161416-1.png 450w, https://cdn05.zipify.com/kti7XcWaHd3Tee5c22RIlBPAk_s=/fit-in/590x0/c71cb4c8eabf46ae888644b2a03fdb8a/627207_20170417t161416-1.png 590w, https://cdn05.zipify.com/2-wnJpXBhUBspK1ztHa_tQCtwgA=/fit-in/720x0/c71cb4c8eabf46ae888644b2a03fdb8a/627207_20170417t161416-1.png 720w, https://cdn05.zipify.com/TYswXF2d90bQCQvkkKtJXuUqM5k=/fit-in/830x0/c71cb4c8eabf46ae888644b2a03fdb8a/627207_20170417t161416-1.png 830w, https://cdn05.zipify.com/m3mbxd-AkGczMsuI3G0aCrAyrng=/fit-in/960x0/c71cb4c8eabf46ae888644b2a03fdb8a/627207_20170417t161416-1.png 960w":|~|:handle:--:swarovski-crystal-spirit-animal-elephant-peacock-necklace-gift-set:|~|:eid:--:58119179:|~|:bvuppclass:--:uca-58119199:|~|:bvprcsvclass:--:mat-58119199:|~|:bvcrnrclass:--:lat-58119199:|~|:brd1blclass:--:zpa-lazyload:|~|:bprcttlclass:--:uat-58119199:|~|:addcrtmsg:--:Product has been added to cart